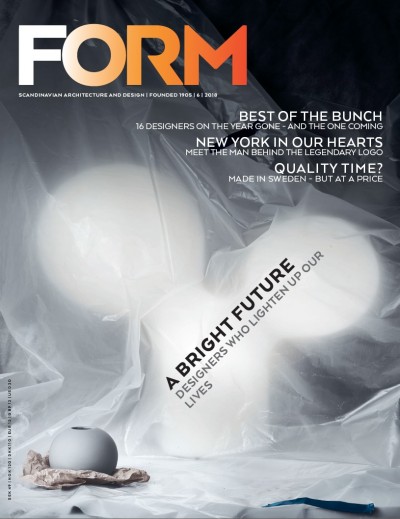 A bright future
magazine : Form
numero : 618 - décembre 2018
date : 05 décembre 2018
catégorie : Art de vivre
Sommaire
Save Ereskine's village

Architect Ralph Erskine's brilliant arts center Skaparbyn is for sale.
But who will buy it, and how will it be put to use? Nils Forsberg
presents a modest proposal.

A sinking ship

Olafur Eliasson's Gesamtkunstwerk is a towering failure.

A self-playing piano

Renzo Piano's seductive architecture is on show in London.

Form follows emojis

The new museum in Helsinki is an Instagram success

King of New York

With his logo for New York City, Milton Glaser created an immortal
symbol for the city that never sleeps. Now, at 89, he is still hard at work,
exhibiting and creating anti-Trump posters.

Future's so bright

Three years ago at the Salone del Mobile in
Milan, her lighting system Block was nominated
for an innovation award. Then it was like
someone pulled the plug. Where did Johanna
Jacobson Backman go?

Light from the east

The sun, the wind, the water – those are a few of his favourite things.
Hiroshi Sambuichi, recipient of the 2018 Daylight Awards, incorporates
elemental flow and nature's fluctuations into his architecture.

18 and over

What were the best, loveliest and smartest things
that happened in 2018? And what do you hope for next year?
We asked 16 Nordic designers and architects
– and got as many answers.

Money for nothing ?

If you want a sustainably produced chair, you'll have to
cough up. But who says four wooden legs and a cushion also
have to cost an arm and a leg?

Larvae lamps

Lamps made of streptococci, salmonella, or why not coli
bacteria? Jan Klingler transforms contagiously disgusting
lth into beautiful light art, while at the same time opening
the doors to a postanthropocene design that questions the
design world's many dogmas.
A propos du magazine