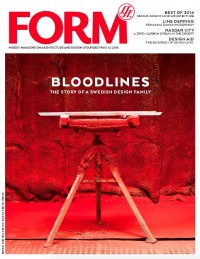 Bloodlines
magazine : Form
numero : 614 - novembre 2014
date : 01 novembre 2014
catégorie : Art de vivre
Sommaire
City of the living dead

The housing crisis in Stockholm may be caused by the Stockholmers themselves. Niklas Wahllöf looks into a future where city life has succumbed to the gated community plague.

Winter stars

A strong-willed chair, paper sculptures and highly unlikely collaborations. Form goes on a seasonal treasure hunt.

Danish delight

Naked, twisted and deceptively simple – Line Depping fuses the modernist heritage with Japanese traditions. Sebastian Lööv talks Tatami and bentwood techniques with the Danish star.

East of Eden

There's an earthly paradise outside Abu Dhabi. Salka Hallström Bornold and Carl Hjelte travel to Masdar City, the place that was meant to be the first zero-carbon city in the world.

Dynasty

It says "Handmade in Huskvarna. Since 1898" on the door. In the fourth part of our series "The Factory", Salka Hallström Bornold and Carl Hjelte meet the extraordinary family Wadskog, the fourth generation who runs the furniture factory Karl Andersson & Söner.

Big in Japan

Not everyone makes a grand comeback in Japan at 83 years of age. Salka Hallström Bornold and Patrik Engström sees the living legend Lisa Larson, half an hour from the factory where she created nationally famous pottery for three decades.

Small Town Horror

Demolition started in Luleå in the sixties. What isn't gone is decrepit, or has been renovated to pieces. Nils Forsberg walks around his hometown feeling like a stranger.

This is an ordinary wall

Public art is going through changes. Bo Madestrand and Ola Bergengren have travelled around Sweden, discovering an art form about ideas, architecture and social spaces.

Best in show 2014

It was the year of crafts, wooden architecture and unexpected kinds of entrepreneurship. It was also the year when the gender issue was red hot and a painted cunt caused fury. Form asked 17 architects and designers about their finest memories from 2014. We got as many answers.

Modulor - Deli

Be inspired by our award winning new products for 2014. Modulor table and Deli chair. Totally different products, yet with clear similarities. Good design and masses of personality that open up new opportunities.
A propos du magazine