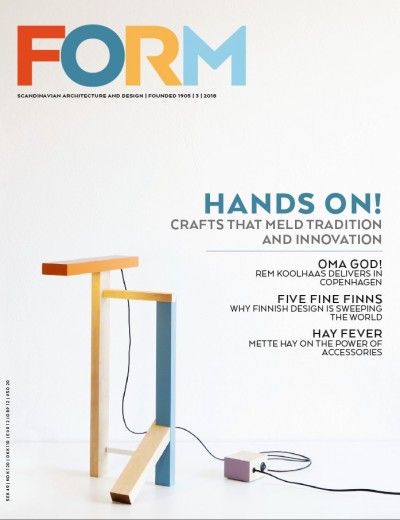 Hands on !
magazine : Form
numero : 318 - 2018
date : 05 juin 2018
catégorie : Art de vivre
Sommaire
Block party

Rem Koolhaas rocks the seaside in new Copenhagen project.

Five fine finns

In the previous issue of Form, we wrote about the exhibition Back to the Present in Helsinki, in which the curators argued that it is difficult for contemporary Finnish design to break free from their heavy modernist legacy. But is the picture really that dark? Ulla-Karin Höynä reports from the Finnish capital.

The order of things

In a very short time, Danish producer Hay has emerged as one of Scandinavia's most successful design companies. Emilia Engblad met with Mette Hay for a chat in one of Milan's most magnificent courtyards during the spring design week.

Going underground

Icelandic artist Erna E Skúladóttir does some deep research about ceramics and ancient craft techniques.

Goldfinger

In her exhibition More Things, designer and silversmith Åsa Elmstam has created objects that highlight the problem of overconsumption.

Craft collaborations

For the first time in many years, news stories on small-scale ceramic industrial production in Scandinavia are not all about shutdowns.

Chair charms

Pettersen & Hein work in the borderland between art and design. In June they are participating in the design biennale Reform 18 in Munkeruphus.

Signs of the times

Ugly light boxes with generic fonts and screaming misspelled sandwich boards. There is a lot wrong with the visual expression of Stockholm's streetscape.

Skin deep design

Over five thousand years ago, the "Ice Man" Ötzi lay down for his final rest in the Alps on the border between Italy and Austria. When his body was discovered in the ice at an altitude of three thousand metres by two tourists in 1991, it was a scientific miracle – never before had such an old, naturally mummified body been found.

Revolutionary recollections

The protesters of the May 1968 events may not have gone into the history books for their style and design, but the signs they waved still conveyed the energy of the protests.
A propos du magazine