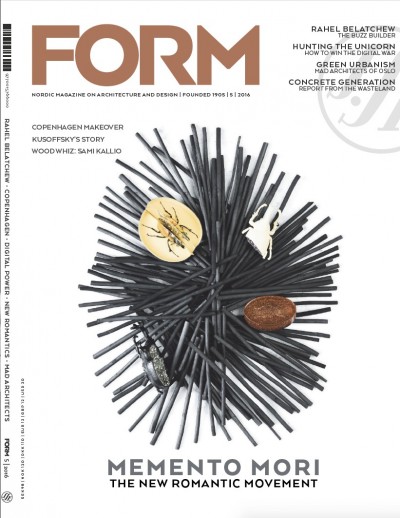 Memento mori
magazine : Form
numero : 516 - octobre 2016
date : 25 octobre 2016
catégorie : Art de vivre
Sommaire
Design S Day

Klong

Klong has a lingering clang

Bringing the gap

The inner harbour of Copenhagen has been
connected by a web of bridges, to the delight of the city's
cyclists and flaneurs. Rasmus Graakjær takes us on a walk
in his pedestrian-friendly hometown.

From riches to rags

Textile designer Maja Sjöström was a rising star in
early 20th century Sweden. Today she is totally forgotten.
Pontus Dahlman traces the footsteps of a female pioneer who
handlessly fell for a fascist dictator.

Secret of the unicorn

The digital revolution is not as new as it sounds. Malin Zimm
reminds us that we've been here before - and envisions how
we all can become digital winners.

Green room

Oslo is trying hard to become Scandinavia's own Manhattan.
Salka Hallström Bornold talks sustainablity with one of the hard workers
behind the city's green facade: Tom of Mad Arkitekter.

Sweet dreams are made of this

The romantic tendencies are strong in jewellery, ceramics and
fashion. It is memento mori all over again, in an era of
roaring belief in growth and digital infinity.

Buzz builder

From the sculptural church to the
fantasy scraper with a piezoelectric coiffure
- Rahel Belatchew Lerdell emphasises the
experiential qualities of architecture.
Art critic Nils Forsberg and photographer
Daniel Lundkvist visit the visionary
architect in her Stockholm office.

One in a million

What is it about The Million Programme that causes aversion,
the inhabitants or the architecture? Writer Carlos Rojas and
photographer Ola Bergengren find beauty behind the scenes in
Sweden's most demonised suburbs.

Chairity project

Sami Kallio wants to create furniture by people, for people.
His chairs are sculptures for sitting, created by a craftsman with a
deep love for his chosen material: wood.
A propos du magazine