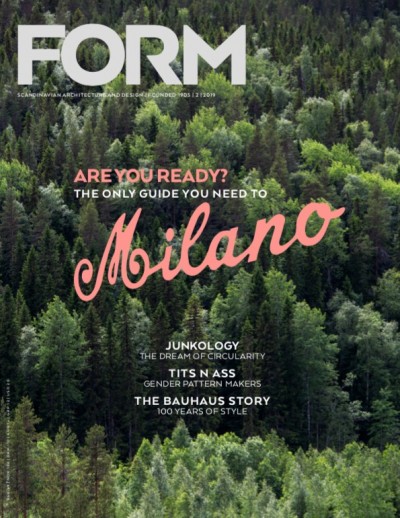 Milano
magazine : Form
numero : 219 - 2019
date : 09 avril 2019
catégorie : Art de vivre
Sommaire
The future is here

During the furniture week in Stockholm, Ung Svensk Form opened at ArkDes, an exhibition showcasing the best of contemporary Swedish design.
Form photographer Rana Van Pellecom was there.

John Selbing

John Selbing's photos helped shoot orrefors to success

Bosse Yman

Jöns Ljungberg och Härjedalens rokoko

The Danish Museum of art & design

The Danish Museum of art & design gets a beautiful refurb

Close, but not quite

The renovation of Röhsska unveils both gems and duds.

Glass Art Society

In 2020 Sweden will host the world's greatest glass conference.

Fifty shades of grey

It's been 100 years since the founding of Bauhaus, a jubilee that will be celebrated throughout 2019. Hedvig Hedqvist recounts the marks that the movement has left on Swedish design history.

Ticket to heaven

Copenhagen architects Norrøn design tourist destinations and rescue eroding shorelines on the basis of slow analysis. Then they let the challenges do the hard work.

The secret world of plants

The Swedish hydropower plants are architectural expressions of the 20th century's belief in
technical progress. Form followed the curvaceous trail of the Indalsälven river.

House of horrors

When Kieran Long became director at ArkDes two years ago, he inherited an institution in crisis. But is the situation any better? Leonidas Aretakis tells of a museum where daily rebukes and sudden dismissals have become part of life. Kieran Long's explanation: "There was a lack of talent."

Milan

Everything you need to know about Milan

Junkology

Fast food chains have always produced tons of waste. Today, plenty of climate-smart solutions crop up – such as coffee ground cups and packaging material made out of potato peels. But complete circularity remains a utopian dream.

The future is female

With their project Tits N Ass, design studio Butler/Lindgård have conquered the world of design and art. They have also been provocative. On their fabrics, breasts, body hair and floating spots become beautiful hand-printed patterns.

The silky way

Silk and organza, beauty and sensualism. This spring, Pasi Välimaa's monumental designs will be installed in Stockholm.
A propos du magazine