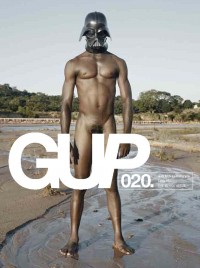 Numéro 20
magazine : GUP
numero : 20 - 2009
date : 01 juillet 2009
catégorie : Culture & arts
Sommaire
Portrait

Amsterdam by night. Pim Milo portrays night photographer Christopher Regis-Gludd.

Portfolio 4x Ambigous Black

Four talented Dutch photographers present their interpretation of black:
Black as Coal by Jeroen Hofman.
Nightmarry by Anouk Kruithof.
Bushcraft by Yamandú Roos.
Once Upon a Time in the South west.. by Sabina Theijs.

Human Theatre

Paul D'Amato (Boston, 1956) has been awarded numerous grants and fellowships including a Guggenheim Fellowship, a Pollock-Krasner Grant and a Rockefeller Foundation Grant to Bellagio, Italy. Though D'Amato is known for projects like Barrio, in which he depicts the Mexican communities of Pilsen and Little Village in Chicago, his intention is not to document urban street life.

Portrait Hero

Pieter Hugo (South Africa, 1976) is young and talented. In 2006 he won first prize in the Portraits section of the 2006 World Press Photo competition, a year later he was the Standard Bank Young Artist for Visual Art and in 2008 the winner of the KLM Paul Huf Award and the Arles Discovery Award at the Rencontres d'Arles Photography Festival in France. With his most recent work Nollywood, Hugo presents the bustle of the Nigerian film industry. He serves up a feast of a series that peels back the layers of the third largest film industry in the world.

Noir

Eleven years ago a successful marketing strategist decided to take his life in a completely new direction by following his heart. Erik Hijweege (The Netherlands, 1963) chose photography. He completed many commercial assignments for interesting companies and from 1998 won various national and international prizes, including for photos from his own project NOIR.

Roger Ballen

During the past three decades Roger Ballen (New York, 1950) has lived and photographed in South Africa. His work has garnered many notable awards and international recognition. The images in Platteland (1994) and Outland (2001) are frontal and disturbing. By juxtaposing people and objects Ballen creates superb scenarios which strengthen the intangible character of his work.

Phyllis Galembo

One of the photographs in Masquerade, a Decade shows a lavishly costumed Egungun dancer in Benin, Africa. In a way the incongruous background reveals that the costume is actually part of an intense ritual dance for which the participants transformed themselves into something wild and dazzling, something they believe themselves to be. Phyllis Galembo (New York. 1952) follows West African rituals and their diasporic manifestations in Cuba, Brazil, Haiti, Nigeria and Benin.
A propos du magazine