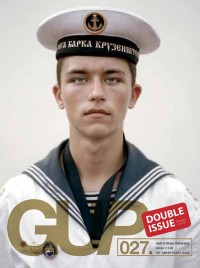 Sohrab Hura
magazine : GUP
numero : 27 - 2010
date : 01 février 2010
catégorie : Culture & arts
Sommaire
A life aquatic

Jiri Büller explored the worlds of Inge Dekker a professional swimmer and psychology student. "When Inge de Bruijn and Pieter van den Hoogenband won gold at the Olympic Games in Sydney, that's when I knew I wanted that, too. Since then I've been working every day to achieve that goal."

Elle Badita: rebel music

Guido Benschop (1975) photographed Elle Bandita
(September 11, 1985). She plays guitar, sings and writes songs. Although the act hails from Rotterdam, Netherlands, the name Elle Bandita is half French and half Spanish and has multiple meanings. It stands for She-The Band, and can also mean She-The Rebel. Elle has the ability to take a bit of everything and still make it her own, regardless of any "musical borders".

To protect & serve

Haris Rizvanovic (September 11, 1984) was born in Novi Pazar (Serbia). Being a muslim forced him to flee his country. He ended up in The Netherlands, where he now works as a security guard. Photographed by Duco de Vries (1967).

On good hope

Fokke Kramer (February 4, 1985) was born and raised in Urk, where he still lives. He is married to Elizabeth. When at sea, they have e-mail contact twice a week. Jan de Groen (1981) sailed along.

Veteran life

Dolph Cantrijn (1965) portrayed Kenneth van Geffen (June 20, 1985), a fusilier in the 17th Armoured Infantry Battalion Guards Regiment Fusiliers Princess Irene. Following the 9/11 attacks in 2001, his brother joined the military mission in Iraq. The event directly affected the family, of which everyone is involved with the army.

The Times They Are A-Changin'. Interview louis zaal & roel sandvoort

Louis Zaal and Roel Sandvoort, Hollandse Hoogte's two directors - clearly still have to get used to the idea that their photo agency has existed for 25 years. For all those years, they have sat opposite each other in one room. One of them smoked, the other didn't; a typical office issue, which was solved through consensus. Because they agree on pretty much everything.

The Go-Between

In 1987 I took my last picture as a photojournalist. I don't have the photo anymore; I threw it away a few years ago with a lot of other photojournalistic work from that time. I still remember where I took the photo, at an opening in Aorta, an artists' collective in a squat on Paleisstraat, Amsterdam.

Work in progress

After Bieke Depoorter (1986, Belgium) graduated from KASK in 2009 with a series on Russia, GUP was one of the first to spot her talent. Ever since, she has been winning prizes
all over the world, including Magnum's Expression Photography Award. In her work Bieke aims for coincidental, brief encounters with strangers. After Russia she travelled to the United States; a document in progress.

The Europeans

Although he was born and raised in Rotterdam, a traditional working-class port city, Otto Snoek (1966, The Netherlands) ended up feeling alienated in his hometown. He never actually left, but nevertheless started to develop the Baudelairean attitude of a flaneur. The rather turbulent local developments in Rotterdam echo in his encounters with people in other European metropolitan areas.

Strip search

Albert Watson (1942, Scotland) is a widely published photographer with more than 200 Vogue covers and 40 Rolling Stone covers to his credit. His is a career of unparallelled productivity, ranging from fashion to iconic portraits to reportage. This is showcased in two new books from his hand: UFO and STRIP SEARCH. The latter, five years in the making, is Watson's spectacular personal portrait of Las Vegas, one of the world's most enigmatic cities.

Dusk / Dawn

Erwin Olaf (1959, The Netherlands) emerged onto the international art scene in 1988 when his series Chessmen was awarded the first prize in the Young European Photographer competition. Ever since, Olaf has continued to explore issues of gender, sensuality, humour, despair and grace in each successive series.

Permanent Error

For the past year Pieter Hugo (1976, South Africa) has been photographing the people and landscape of an extensive dump of obsolete technology in Ghana. Western countries produce around 50 million tons of digital waste every year – most of which is piled in containers and shipped to developing countries, supposedly to reduce the digital divide, to create jobs and help people.

Haiti

A massive earthquake hit Haiti on January 12, 2010, killing about 210,000 and injuring countless more. World Press Photo (and Viewbook Photostory) winner
Francesco Giusti (Italy) has been travelling back and forth to Haiti since 2004. This year he was there twice: in January-February to report on the immediate impact of the earthquake, and again in April to report on the aftermath of this dystopian event.

Cholita

Susana Raab (1968, Peru) was once surprised to find herself nicknamed Cholita Gringa by friends. The original meaning of this loaded term, cholos, signifies a dog of disreputable origin, and was used by the colonial Spaniards as an insult.

Congo at 50

This is a selection of the 50 Congolese citizens photographed by internationally acclaimed Flemish photographer Stephan Vanfleteren (1969, Belgium). His trademark black and white portraiture shows individuals from all walks of life. Their country gained independence from Belgium 50 years ago.

Sohrab Hura

Sohrab Hura (1981, India) has no formal training, but has been a fanatical image-taker since 2001 and is now widely acknowledged as an emerging talent. Usually working on long-term projects, Hura here shows segments of a week's work in Niort, a small city in western France. Niort once had a thriving leather trade, but insurance is now its main industry.

The Rise and Fall of Photo Magazine

It is 2020 and there is no more paper. The rich amuse
themselves with their foldable, lightweight computers; the poor tell each other stories, often with the help of a wellthumbed photo or magazine that is over a decade old.

Daido Moriyama

World War II, the years thereafter under American occupation in a country desperately looking for its own identity and the enormous pace at which the traditionally closed Japanese society was catapulted into the 21st century; for Daido Moriyama (1938) it must have been a disengaging period. The American presence would affect him for life. In 1960 he saw the book New York by William Klein. Like Klein, Moriyama first studied graphic design, before making the transition to photography. And like Klein, he would consider photo books as the most effective medium to present his images.
A propos du magazine