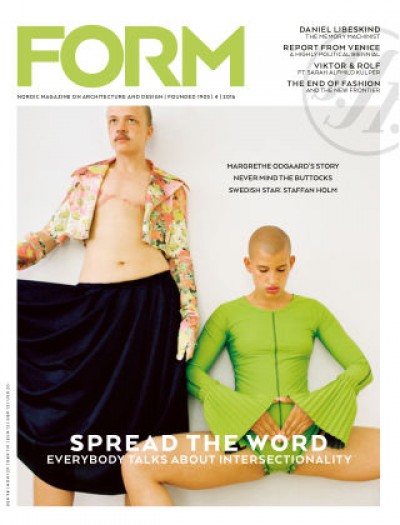 Spread the world
magazine : Form
numero : 416 - 2016
date : 01 septembre 2016
catégorie : Art de vivre
Sommaire
Song of a beast

Memorial architecture

He broke through late,
but has become one of our time's leading architects.
Salka Hallström Bornold meets Daniel Libeskind, who just
designed a museum of Kurdish culture in Iraq.

Fashion's new frontiers

The wardrobe of the future is wired.
Bradley Quinn describes a future where consumers can
communicate directly through their 3D-printed clothes.

Staffan Holm

As a kid he divided his time between karate classes and the family workshop.
Today, Staffan Holm is most well-known for designing stools.
Bo Madestrand meets up with a designer who is too busy to feel stressed.

The Matrix

A reorganisation is on the cards. Identity politics is polarising the debate and the old
guard is resisting. Salka Hallström Bornold sorts out the exotic concepts that everyone
is bickering about – and explains why it is, in fact, a portal to the future.

Brave new world

Thanks to identity politics, fashion's old notions
about beauty, ethnicity and gender are being
challenged. Photographer Märta Thisner shows
the way to a future without prejudice.

Fashion critical condition

Fashion's rumoured death isn't all that
exaggerated. But now there's a new norm
critical guard that could revitalise a culture
in danger of extinction.

Great expectations

Trash culture, body meditations
and quiet politics – this year's final
exhibitions at Stockholm's design
schools were unusually introspective.
Salka Hallström Bornold shot her
favourites.

The garden of God and evil

The Venice Architecture Biennale is a
dark mirror image of the horrific political situation in Europe.
Even more so than curator Alejandro Aravena could have
hoped for, suspects Salka Hallström Bornold.

Fashion after fashion

After five years at Viktor & Rolf, Swedish
designer Sara Alfhild Külper knows every
nook and cranny of the fashion system.
Here is her vision of the future.

Nhu Duong

Synthetic materials meet organic shapes in Nhu Duong's garments. In her work, the swedish-vietnamese designer wants to blur the lines between real and fake.
A propos du magazine