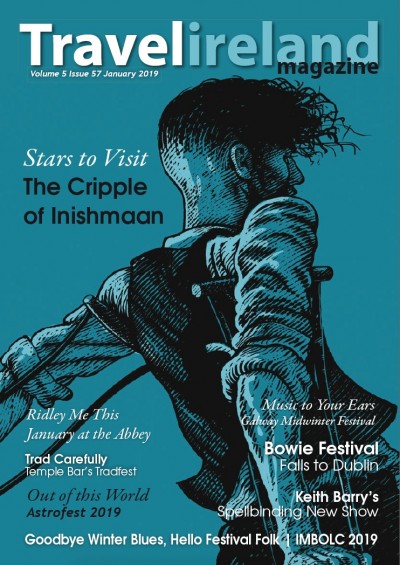 The Cripple of Inishmaan
magazine : Travel Ireland
numero : 57 - 2019
date : 14 janvier 2019
catégorie : Loisirs & vie pratique
Sommaire
Martin McDonagh

Goodbye Winter Blues, hello Festival Folk

Music to your ears

Galway's Midwinter Festival

Out of this World - Astrofest 2019

Galway Astronomy Club's Astrofest 2019 will take place Saturday, January 26 in the Harbour Hotel,
Galway with registration from 9:15am.

Cobh Heritage Centre

Keith Barry's Spellbinding new show

Leading Irish hypnotist, mentalist, brain hacker and mind magician Keith Barry is set to take his biggest show to date to Dublin's Olympia Theatre.

Ridley Me This

See two plays for the price of one at the Abbey Theatre this month with the Irish premieres of Philip Ridley's Tonight with Donny Stixx and Dark Vanilla Jungle.

Bowie Festival

The General Post Office

Ireland's Hall of Independence
– The General Post Office

Trad Carefully

Tradfest returns to Temple Bar

The Cripple of Inishmaan

An ensemble cast including Ian O'Reilly (Moone Boy), Jamie-Lee O'Donnell (Derry Girls),Phelim Drew (My Left Foot) and Rosaleen Linehan (The Butcher Boy) will star in the GaietyTheatre's upcoming production of Martin McDonagh's The Cripple of Inishmaan.
A propos du magazine