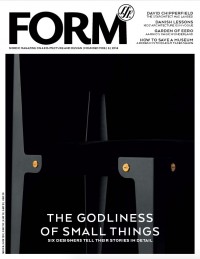 The godliness of small things
magazine : Form
numero : 514 - 2014
date : 01 septembre 2014
catégorie : Art de vivre
Sommaire
Wanted: Talents

Through the student project X-Works, Lammhults once found the designers they would collaborate with for over 20 years. Now, the Swedish furniture manufacturer searches for new stars in the younger generation. It's time for X-Works 2.0

Revival of the fittest

Not everyone get discovered by Lady Gaga, or become hailed as stars before they did their local catwalk debut. Sebastian Lööv talks to the unusual designer Isabel Yalda Hellysaz, one week before the applause.

Mikko, Niko & Kimmo

K2S prefer not to be visible, but their architecture is all over Helsinki. At the moment, they're designing the new "Silicon Valley of sports". Salka Hallström Bornold travels to their headquarters inside the iconic arena, Helsinki Olympic Stadium.

Danish lessons

In Sweden, PISA ratings are hitting rock bottom and school architecture is off the political radar. But things are happening in the Nordic region. Sofia Hallström goes on a Denmark tour, where architecture has become a part of the school politics.

Garden of Eero

Little China

The dream of China starts and ends in Mehedeby. After ten years of disrepair, the Swedish-Chinese trade centre Dragon Gate is to be resurrected. Ola Bergengren and Bo Madestrand visit a ghost town that would have been better off left alone.

David and the Goliathan task

Dynamite Alfred's fortune was bequeathed to prizes within science, literature and peacekeeping. In the spring of 2014, a new prize was awarded – the Nobel Prize in Architecture. The winners are David Chipperfield and his colleague Christoph Felger. And the prize? To build a Nobel Centre in copper and glass on the Blasieholmen in Stockholm.

The godliness of small things

Even the smallest thing can change the course of the future. Here, six designers describe how the details became their best friends.

House of cards

As the new acting director, Kerstin Brunnberg's job is to clean up the most mismanaged museum in Sweden. What went wrong, and what happens next? Bo Madestrand and Lars Tunbjörk snoop behind the scenes at Arkdes, formerly known as the Architecture Museum in Stockholm.

Arty animal

On the Norwegian island Sandhornøya, the architects Rintala Eggertsson have erected a temporary exhibition space in the form of a traditional fish drying structure. This is where the cultural festival Salt will take place. Next year, it will go on an Arctic tour.

Martin Hallberg

Martin Hallberg, Red Dot-winner and sound designer, on the magic of sleeping in the countryside and sniffing liquorice smoke.
A propos du magazine