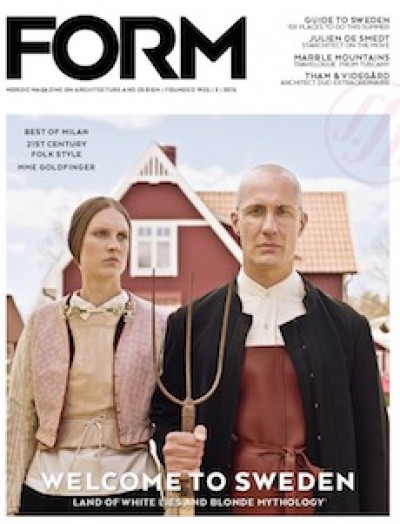 Welcome to Sweden
magazine : Form
numero : 315 - 2015
date : 05 juin 2015
catégorie : Art de vivre
Sommaire
Thank you, Lars

Lars Tunbjörk has passed away, only 59 years old.
Bo Madestrand remembers a man and photographer who has
forever changed how we see the human and Sweden.

Golden days

This year is Form Magazine's 110th anniversary.
Bo Madestrand sat down in the library of Svensk Form with
Lennart Lindkvist, editor-in-chief from 1963–1973, to
talk about the history of the magazine.

The hard core of Tuscany

From the mountains of north-western Tuscany comes
the exquisite marble that has been loved by everyone from
Michelangelo to Jasper Morrison. Carl Hjelte and Salka Hallström
Bornold tell the tale of a region where the stonemason fest
has been going on since Etruscan times.

Design alla Milanese

Amish crafts, Japanese serenity and sneaker
inspiration. Bo Madestrand came home from
Milan with a bag full of good news.

Remember Lisa

Lisa Johansson-Papé was one of the leading
designers of Finnish modernism. Today she's as good as
forgotten. Bo Madestrand reminds us of a
female pioneer in a lab coat.

The TV Show

Things are happening at Tham & Videgård. This year, their largest
project ever will be completed, including the new architecture school in Stockholm.
Madestrand pulled on his overalls and hung with the architects
during a very interesting spring indeed.

Tangled up in white

How did Swedishness become synonymous with blonde hair and
red cottages? Salka Hallström Bornold uncovers the dirty roots
of the Swedish whiteness norm. It starts with scientific racists,
juvenile literature and Dalecarlian painters.

Welcome to Sweden

Craft fest in the west, paper art in the north – or a baroque
dinner in the palace? Form has hunted down design happenings
all over the country. This is the only summer guide you need.

Picnic al Fresco

This just in: fruit lamps, retro leaves
and a sketched tree. Form picks this
season's golden apples.

Julien de Smedt

He's moved city before. But Julien De Smedt is a tad sceptical
about his new hometown Stockholm. Sofia Hallström discusses
conservatism and emergency design with the Belgian starchitect,
who recently launched the new brand Makers With Agendas.

A midsummer day's dream

It's the season for Swedish cottage dreaming.
Photographer Patrik Engström and stylist
Alexandra Ogonowski show a modern version
of the old National Romantic style.

Anna-Sara Dåvik

We haven't heard from her in a long while. But this year,
Anna-Sara Dåvik is back with grand exhibitions and a revamped
brand. Matilda Sandström went to Svartsjö castle to meet the
fashion designer who now calls herself MME.
A propos du magazine