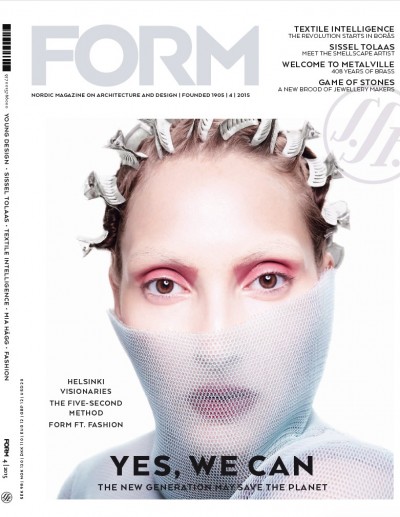 Yes, we can
magazine : Form
numero : 415 - 2015
date : 01 août 2015
catégorie : Art de vivre
Sommaire
Smells like Sissel's spirit

She has made smellscapes of cities, produced human cheeses
and recreated the stench of male fear. Now Sissel Tolaas, smell researcher and
designer, wants to start an institute for emotional knowledge.

Casa mia

She started at the top, at Jean Nouvel and Herzog & de Meuron. For the past ten years,
she has worked under her own name, and has just been involved in completing a large
housing complex in Paris. Bo Madestrand meets Mia Hägg, one of Sweden's most
successful international architects, for a conversation about Slussen, social architecture
and how to breathe new life into the Million Programme.

Done in 5 seconds

A candleholder in three to five seconds, a piece
of furniture in three to five minutes. Bo Madestrand meets
Jenny Nordberg, the designer who explores the
missing link between industry and craft.

We live in a political world

The times they are a-changin'. Here's a new generation that
wants to make a difference in society. Students from the fashion
and design academies in Sweden address everything from
gender issues to meat consumption and poverty.

Starcraft

Tribute owers, a clever necklace and zen ceramics
– the Form team has gone news hunting again.

Welcome to Metalville

The brass foundry of Skultuna was founded by a malicious
monarch in 1607. Today, the factory produces contemporary products
in cooperation with the Swedish designer elite. What happened in between?
Salka Hallström Bornold and Carl Hjelte search for Skultuna's sinuous
history along the riverbanks of Svartån.

Gimme shelter

Of course you can change the world with architecture.
The Finnish firm Hollmén Reuter Sandman explains
how and hope that others will follow.

The fibre revolution

The conventional textile industry is devastating to the environment.
But a brighter future is approaching – fabrics that can purify water, measure
ECG or conduct electricity. Annica Kvint tells of the revolution that is
taking place in the School of Textiles in Borås.

Game of stones

A new brood of Swedish jewellery designers
make the scene. Stina Persson Helleday and Marcus Palmqvist
show some of their intriguing works.

Art star on the move

Ulrika Elovsson is leaving her position as creative director at Issey Miyake's
former studio Reality Lab. The curtain is going up for something new. This fall, we get
to see the textile designer's contribution to the exhibition Utopian Bodies, made out
of materials that she buried around the world – from the Dead Sea to Santa Fe.

Sofia Hedman

Futurism, Bruegel and archaic jewels - there's a new curator in town, who takes inspiration from history.

Danish steel

Vipp has come a long way since the first
pedal bin was made in the thirties. Form
visits Vipp shelter, the Danish company's
new venture.

Playtime in Paris

A nordic pavilion is currently being made according to the game of whispers principle, inspired by Michel Foucault.

One in a million

The altruistic designer from Helsinki was chosen for the grand prize. Ilkka Suppanen
is on his way to gothenburg this fall.

Team Razavi

Very very gold designer Farvash Razavi is
back – as football manager for the team
swedish heartists. "that's what drives me, to
find loopholes in the rules", she says.
A propos du magazine