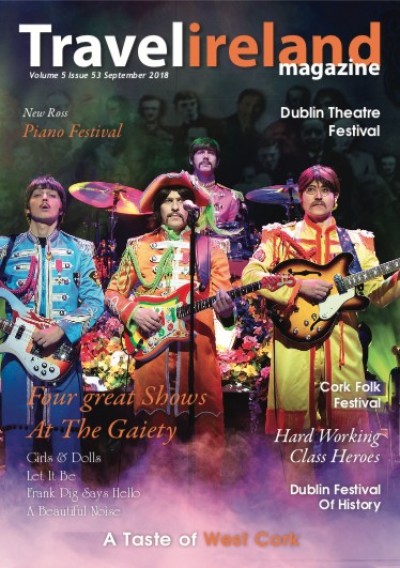 Dublin Theatre Festival
magazine : Travel Ireland
numero : 53 - 2018
date : 04 septembre 2018
catégorie : Loisirs & vie pratique
Sommaire
Brendan Behan

New Ross Piano Festival

Cobh Heritage Centre

Cork Folk Festival

Discover the wonders of Cobh

A taste of West Cork

Ireland's largest food festival, A Taste of West Cork Food Festival, runs from 7th - 16th September this year. The 10-day festival now offers the largest number of events it has ever undertaken, with 255 culinary and adventure events across the region's 41 towns and villages and
8 islands.

Cobh Guinness Blues'n'Roots Festival

Every year in September, the beautiful tourist town of Cobh in County Cork hosts a gathering of International, National and Local Blues musicians for the annual Guinness Cobh Blues 'n' Roots Festival.

Jim Turner

Introspective/Retrospective at Gallery Zozimus

Dublin Theatre Festival

The 2018 DublinTheatre Festival features a tantalising selection of brand new work, fresh versions of classic plays and adventurous international productions, created by renowned artists as well as emerging voices, and productions aimed at children, young people and adults.

Fallon & Byrne

No trip to Dublin would be complete without a visit to the city centre food mecca Fallon & Byrne on Exchequer Street. Fallon & Byrne features a restaurant, wine cellar and food hall and will cater to all your gastronomical needs no matter the time of day. The simple idea behind Fallon & Byrne is the belief in wonderful food, fine wine and great company and they are all in abundance here.

Royal College of Surgeons in Ireland

Dublin Festival of History

The Dublin Festival of History runs from 24th September to 7th October 2018 and is a celebration of history with over 140 free history events for the general public including talks, walks, seminars, exhibitions and films taking place in venues around Dublin including libraries and Dublin Castle.
A propos du magazine