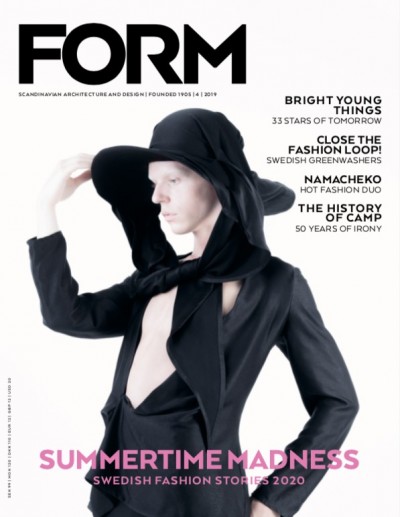 Summertime madness
magazine : Form
numero : 419 - 2019
date : 20 août 2019
catégorie : Art de vivre
Sommaire
A year of painful insights

Form's deputy editor is back full-time after a year's sick leave for exhaustion syndrome. Read Salka's report from the dark side of diligence.

Johannes Torpe

Sprung from a hippie colony and with no education – Form's reporter met with an unusually inspiring Dane. Johannes Torpe is known for his provocative and playful design, most recently with love and heartbreak furniture for Moroso.

An inconvenient truth

The big fashion companies boast about their sustainability efforts. But the reality is much darker. The textile industry emits 1.2 billion tonnes of carbon dioxide per year, more than air and sea traffic globally. Sofia Hallström digs in the dirt caused by the world's filthiest industry – fashion.

Spring fever

Fashion never goes on holiday. While others lie on the beach, Spring/ Summer 2020 is taking shape in the studios. This is also when freshly graduated fashion designers meet reality. Patrick Miller portrays a chief designer and four talents on their way to the future.

Aesthetics of resistance

Under the name Namacheko, the Swedish-Kurdish Lurr siblings have taken Paris by storm. Their clothes are based on life in Iraqi Kurdistan, with patterns borrowed from Arabic ornamentation.

Rising stars

Totems, spirit animals and other organisms. Salka Hallström Bornold sees the design of the future among the graduation projects at Konstfack and Beckmans.

A day at the factory

After years of work by the forge, silversmith and tailor Ulrika Aneer grew tired of all the drab work clothes. Together with Anna Bandgren, designer at Julian Red, she started Kneg. And with the help of two tailors from Syria, they are now producing a new generation of work clothes
– at an abandoned paper mill in Dalsland.

Let the show begin

What is camp? A secret code language, magic, humour, extravagance, dead seriousness or an ironic attitude? Hanna Johansson sorts out the terms.

Maxjenny Forslund

Maxjenny Forslund is the furniture maker turned fashion designer. Form paid a visit to her little shop in Kødbyen,
where she designs unique pieces.
A propos du magazine