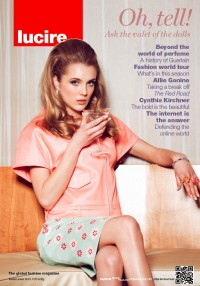 Oh, tell !
magazine : Lucire
numero : 34 - 2015
date : 16 mars 2015
catégorie : Art de vivre
Sommaire
Can't miss Swiss

A whirlwind tour of Switzerland reveals the bigger picture of its culinary and cultural future extend beyond cheese, chocolate and fine dining, writes Elyse Glickman.

Letter from Marrakech

Stanley Moss returns to Marrakech for a follow-up, avoiding the guidebooks in an effort to seek genuine experiences.

Building character

Hyundai has come a long way since the first Pony in 1975. Jack Yan hops behind the wheel of the i30 Limited to see if the Korean giant delivers substance in addition to its latest model's style.

Independently minded

Jack Yan talks to Allie Gonino, the actress who found fame on The Lying Game, and finds her role in The Red Road one with a greater underlying message that taps into her own desire to make our planet a better place

The bold is the beautiful

A career in modelling and two master's degrees: how did Cynthia Kirchner, appearing next in Entourage, fit it all in? Jack Yan interviews her.

Meadowlands

Heartbreak Hotel

The beauty behind a beauty competition

Napoleon Perdis created the look for the Miss Universe New Zealand contestants. We take a peek behind the scenes

Light as a feather

Guerlain: a world beyond perfume

Eleanor Wright looks at Guerlain, one of the oldest perfume boutiques in the world, and why its latest scents are worthy of the family's name.

The trend-setters

Sopheak Seng gives his picks for autumn–winter 2015 from the catwalks at New Zealand Fashion Week.

Liberty, belle

Liberty prints are very much in vogue in fashion trends. Eleanor Wright traces the history of the storied English brand.

Soft meets fluid: it's springtime in London

London Fashion Week's spring shows last year presented such a variety, but what should you buy now that the season is upon us? Fashion and beauty editor Sopheak Seng casts a critical eye.

The global report

As we traverse the world, we come across labels large and small, backed either by big money or by the dreams of independents. Geneviève Hole, Elyse Glickman and Tamara Madison look at three getting noticed this season in the UK, the US and Ukraine

The internet is the answer

The new book, The Internet Is Not the Answer, is this generation's No Logo, questioning the medium when it should really question the players, says Jack Yan. But given that the questions it raises are valid, what are the answers?
A propos du magazine